Energy Savings Tips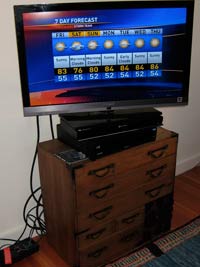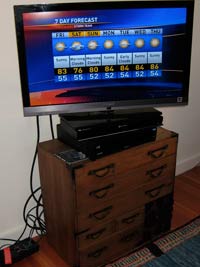 At home, your family may have a television or computer. While you are at school, you would not think that they are using electrical energy. But believe it or not, they do use small amounts of electrical energy—just by being plugged-in! This loss of electrical energy is like a water faucet with a slow leak. Over time, even small drips of water really add up to lots of water wasted. This is good to know if you want to reduce your carbon footprint and save money.
You and your family can take some simple steps to save energy. For example, unplugging a computer or television might not be convenient. Rather, it may be easier to plug them into a power strip with an on/off switch. Turning the switch "off" when they aren't in use stops that electricity leak. But don't do that for your refrigerator!
The sections below have some other ideas to help you and your family reduce the energy you use. You will save money too. Think about what applies to your family. For example, about half the energy used in your home may come from heating and cooling. Are your winters cold and you need heating? Do you have hot summers and need cooling? Or maybe you need both. In other cases, steps you can take may be sort of obvious—like turning-off lights that aren't being used! A lot of people making small changes can really add up to a lot less carbon moving into the atmosphere.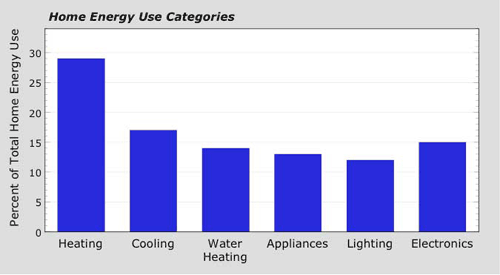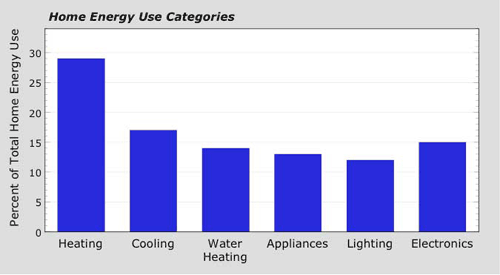 1. Heating
Home heating in cold months may be an important use of energy for your family. It's the main energy-use category, so conserving a small amount here goes a long way to reducing the energy you use. From the list below, see what may apply to your home.
Change your air filter: Checking air filters each month can save energy. Replace filters when they are discolored. A heating system has to work hard and use more energy to pump air through a clogged filter.
Use a programmable thermostat: This helps you to lower temperatures at set periods on a regular basis. For example, when you leave for school, you might forget to lower the temperature during the day. In contrast, by programming your home to 55°F on winter days when nobody is home gives savings that really add up.
Get a tune-up: As with a car, a tune-up of your heating system can improve efficiency and save energy.
Windows: Replacing windows with ENERGY STAR®-qualified windows could save $20-$100 per year in energy use.
2. Cooling
Especially if you live in a warm climate, home cooling can be an important use of energy. It's a main category of energy use, so conserving a small amount here goes a long way to reducing energy use. From the list below, see what may apply to your home.
Room air conditioner: If you are buying a new air conditioner, consider purchasing an ENERGY STAR® model. They use up to 10 percent less than standard models. They might cost more in the store, but you'll bank dollars on your energy bill.
Insulate air conditioner: In the winter, use a tight-fitting air conditioning cover. Also make sure that the fit is tight for your air conditioner.
Windows: Replacing windows with ENERGY STAR®-qualified windows could save $20-$100 per year in energy use.
3. Water Heating
Hot water is important in your home. You use it in the washer, to clean dishes, and to bathe. The average household spends $400-600 a year on heating water. If you have the opportunity to adjust the water-heating system that you are using, you can cut the cost in half. Here are some energy-saving tips:
Reduce water heater temperature: Do you really need your hot water at 140-150°F? This could scald your skin, so you need to add cold water anyway. At 120°F, you'll use much less energy, save money, and still have the hot water you need.
Insulate hot water pipes: Doing this leaves water hotter when you use it; less heat is lost between your water heater and your faucet. If your hot water tank isn't insulated, an insulating jacket will help too.
Vacation: If you leave for a vacation, don't forget to turn the water heater temperature way down. Look to see if it has a "vacation" setting. Then you're not keeping water hot the whole time you're gone.
New water heater: Water heaters last 10-20 years. If you need to buy a new one, check that it has earned the ENERGY STAR® rating. It may cost a bit more at the store, but it saves energy and saves you money over just a few years.
Reduce shower times: Shorter showers mean less hot water. Low-flow shower heads also use less hot water.
4. Appliances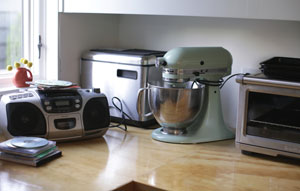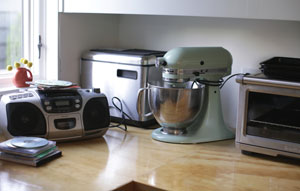 On average, your family may spend about $2,200 a year on energy for appliances. If you have the chance to buy a new appliance, compare the price for one with an ENERGY STAR® rating. They may cost a little more in the store, but they will save money in the long-term. Your energy bills will be less, and you will reduce carbon. Remember that estimated factor of 2.2 to generate electric energy. Some other ideas include:
Clothes washer: When possible, wash clothes with cold or warm water rather than hot water. Heating water can account for 90 percent of the energy use in washing clothes.
Clothes dryer: Don't over-dry your clothes. You can also increase dryer efficiency by cleaning the lint trap with each load.
Dishwasher: Make sure the dishwasher is full before turning it on. You'll use the same amount of energy and water whether it is full or not. You may be able to select the no-heat drying option, and let clean dishes air dry. This can save up to 20 percent of total energy use.
Microwave: Use a microwave rather than oven or range to reheat small portions of food.
Range: Don't use a small pot on a large burner. If you do this, nearly half of the heat from the burner will go around the pot. Using a cover on the pot also helps you cook more efficiently.
Refrigerator: Keep it at a setting of 35-38°F, and check that seals around the door are airtight. Reduce the time that the door is open.
5. Lighting
You don't need to replace every bulb in your house with an ENERGY STAR®-rated bulb. You can start, for example, with your five most-used lights and replace those. This could save up to $70 per year.
CFL bulbs: Compact fluorescent bulbs (CFL) emit bright light, use 75 percent less energy, and last up to 10 times longer than incandescent bulbs. Start by trying them a few at a time.
Porch light: An outdoor porch light can be one of the most-used fixtures at home.
Indoor lighting: Turn lights off when not in use.
6. Electronics
On average, the electronics in your house account for about 15 percent of your electric energy. This comes from using televisions, DVD players or recorders, cell phones, computers, cameras, stereos, kitchen appliances, or game players. Many of these have power adapters or chargers. You can do a few things to reduce use from these.
"Phantom" loads: This is the energy used while your electronics are "off." For the average home, estimates are that 75 percent of the electric energy used by electronics and appliances are through phantom loads. You can reduce this use by unplugging the electronics, or bundling them on a power strip with on/off switch.
Computers: Screen savers don't really reduce use by monitors. When your computer isn't in use, switch off the monitor and put the computer in sleep mode. If you'll be away from your computer for more than two hours, shut it down.
Computer power cord: With a laptop, place the power cord in a power strip or unplug it; otherwise, it will draw electric energy continuously.
Televisions, DVD players: Bundle these in power strips with on/off buttons where possible.
Chargers: When recharging batteries for a cell phone, computer, or camera, unplug the unit when batteries are recharged, or it will continue to draw power. You can tell this because they'll stay warm to the touch.
Game consoles: When not using your game console, unplug it, or switch it off with a power strip. You can reduce energy use by about 90 percent.
Standby mode: In the future, more and more products will have standby modes that use less electric energy. Check that you know where standby mode is.
7. Other
Recycle, reuse: Making products from recycled material uses much less energy than making products from raw earth materials.
Transportation: Walk, bike, or use public transportation when possible.
As you have seen in Carbon Connections, the carbon cycle and climate have a lot of connections. And you and your family are connected in many different ways. But what do your friends think about the carbon and climate connections? Are they learning something too from Carbon Connections or their science class? You'll get to see what they think in a video and some of their posts from social pages in the next lesson.