Don't put your coat away! For second field trip, you are going to the South Pole.
The South Pole is at the center of the continent of Antarctica. Most of Antarctica is covered by an ice sheet nearly two miles thick at some locations. Rugged mountains extend high above the ice sheet in spots, giving clues to Antarctic's geologic past. Some of these rocks contain dinosaur bones, indicating that Antarctica was not always so cold.
You saw an ice core record from Antarctica in Unit 1. Another important record of Antarctica's climate comes from a climate station on top of the ice at the South Pole. Most of Antarctica is surrounded by ocean (map). Winds circling Antarctica mix air that is interacting with the oceans and land. Both the land and ocean have seasons when productivity is high, and when it is low. That air also arrives at the climate station at the South Pole.
Investigate part of the CO2 record from the South Pole in the steps below. The most recent data extends to the start of 2006, so you will look again at a six-year period (2000-2006).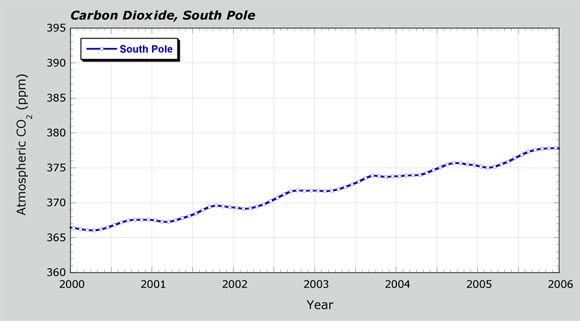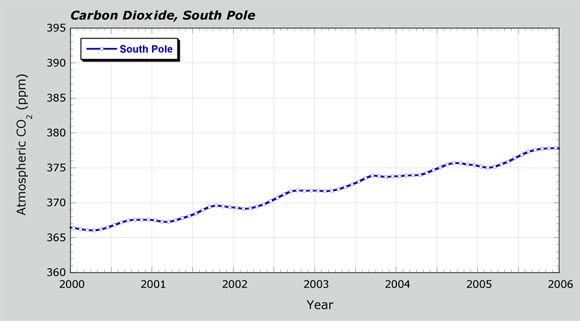 Get from your teacher a handout of CO2 data for the South Pole and Mauna Loa (2000-2006). Select a calendar year and label the months. Use these labels as a reference for other years as you do the steps below.

Write one way they are similar.
Write one way that they are different.
Write two sentences about this graph using the phrases "rate of photosynthesis," and "rate of respiration."
What is the main difference you see between a hemisphere dominated by land, and a hemisphere dominated by ocean?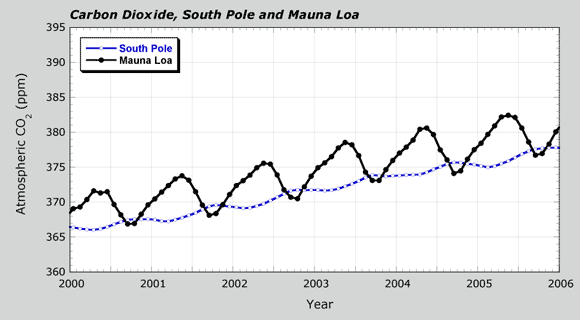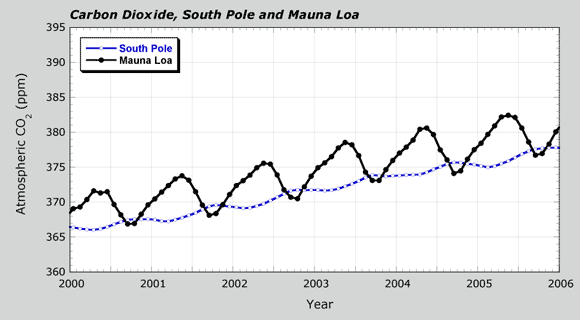 By looking at a selection of CO2 data from air in Unit 2, you started to see patterns and trends. These patterns and trends are related to interactions among parts of the carbon cycle in Earth's system. Having distinct patterns and trends offer scientists something else when working to understand the carbon cycle and climate. The patterns help them develop models of the systems. With those models, scientists can test explanations for how carbon cycles.
Listen to your teacher for when you will start Unit 3 of Carbon Connections. In that unit, you will get to try your hand at a climate model with several factors. Several of those factors relate to the carbon cycle. Using the model, you will get to investigate why that is!