Carbon Indicators—Responding to Reactions
You may think that science is about measuring values, or getting the "answer." While that can be a part of science, indicators—in science or any other field — can tell you important things about systems. Besides giving you values, indicators tell you whether something has changed, and whether it's changed by a lot or just a little.
You used bromthymol blue (BTB) as an indicator in Lesson 1.1. In your investigation, the color of the solution with BTB changed as carbon moved, but the molecule with the carbon also changed. The reactions showing those changes are in the equations below. These reactions are a fundamental part of carbon cycling in all freshwater and marine environments.
The two equations below show CO2 moving in and out of water. The subscript "aq" refers to aqueous for the substance that is dissolved in water. The subscript "gas" refers to the substance in a gas state. This CO2 is also an important part of air. You should be able to tell which reaction represents Carbon In for the air, and which one represents Carbon Out of the air. If you are not positive that you know, check with a partner.
CO2(gas) → CO2(aq)CO2(aq) → CO2(gas)
Once a CO2 molecule has entered the water, it can react with the water, H2O. A CO2 molecule can join with a water to make carbonic acid, H2CO3.
H2CO3 + H2O(l) → H2CO3(aq)
It is called an acid because of the next change. Carbonic acid in water separates (dissociates) to the ions H+ and (HCO3)-1, the bicarbonate ion. An excess of hydrogen ions (H+) leads to a solution that is acidic. The reaction is:
H2CO3(aq) → (HCO3)-1(aq) + H+1(aq)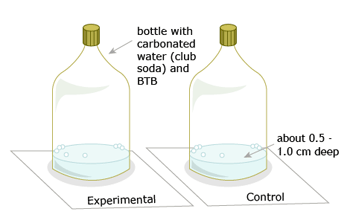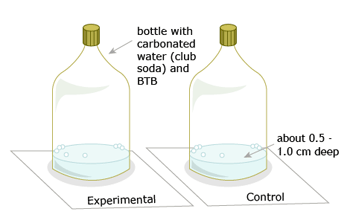 By combining the equations, you get a full reaction sequence that connects CO2 to H+. The full reaction is:
CO2(aq) + H2O(l) ↔ H2CO3(aq) ↔ (HCO3)-1(aq) + H+1(aq)
What happens when you increase CO2 in this system? Adding more CO2 to water forces the reaction to the products in the image. This creates more H+, and the system becomes more acidic. The image shows color changes for BTB that go with that change in acidity. It also shows that H+ and color also relate to a numerical scale. This is the pH scale for the amount of H+ in solution. A change from blue to yellow for BTB indicates a change to lower values of pH.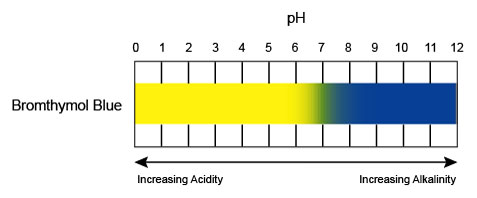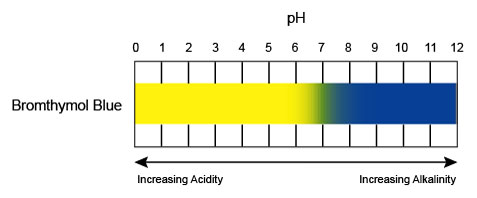 What if you decreased CO2? The color change to green then blue indicated pH at 7, and then going slightly higher than 7. In this case, CO2 leaving the water is the reaction going to the left, with a decrease in the H+. The system then becomes more basic.
CO2(aq) + H2O(l) ← H2CO3(aq) ← (HCO3)-1(aq) + H+1(aq)
Bromthymol blue is very useful because it displays a rapid color change, right in the middle of the scale (pH=7).